When you need high-powered extraction for contaminants, there's no substitute for industrial HEPA vacuums. AAir Purification Systems provides all types of vacuum units, to ensure efficient removal of all types of debris, including explosive particulates, dust, fumes and much more. Our industrial vacuums are applicable across industries, including automotive, welding and fabrication, machining and foundry, among others.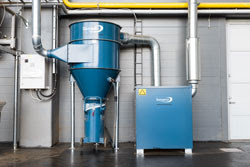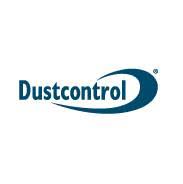 Dustcontrol supplies portable machines and stationary extraction systems to help companies all over the world to achieve better air quality results. Their product range consists of portable dust extractors for industrial and construction use, fixed extraction installations, discharge arrangements and accessories.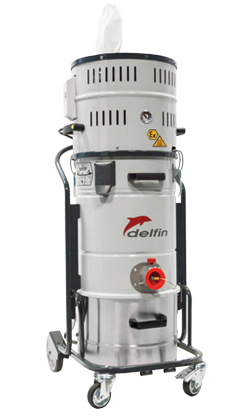 Delfin was founded over 25 years ago for the industrial vacuum sector. Since then Delfin has never stopped working to offer its customers innovative and efficient solutions at the top of quality and design to solve vacuuming problems for professionals and industries throughout the world.
Our source capture vacuums bring safety and reliability to processes with high air contamination rates. They're a superb complement to a centralized air filtration and purification system, eliminating the bulk of dangerous contaminants at the point of creation.
HEPA-Grade Vacuums
High-Efficiency Particulate Absorbing (HEPA) filters are the gold standard for air quality and pathogen eradication. It's why we supply HEPA vacuums to facilities with broad-ranging air contaminants and high expectations for their vacuums.
Cleaning capabilities
To meet HEPA standard, vacuums must be capable of capturing 99.97% of particles with diameter greater than or equal to 0.3 microns. All the HEPA-grade vacuums we supply meet this criterion, ensuring broad-spectrum air cleaning capabilities for any industrial or commercial facility.
A Broad Scope of Solutions
AAir Purification Systems will ensure you're getting the industrial vacuum that's ideal for your specific facilities and contamination concerns. Regardless of the model you choose, rest assured it's going to perform at a superior level in whatever capacity you demand from it.
Our systems ensure a high velocity capture rate of airborne particulates
Use systems for continuous duty applications with low maintenance requirements
Self-cleaning cartridge filters ensure easy removal of collected particulates
Broad range of fittings and accessories for easy customization
---
Bring Vacuuming Convenience to Your Facilities
If you require a high-powered extraction solution, turn to AAir Purification Systems to provide it. We'll evaluate your air contaminant situation and recommend an industrial vacuum that's well-suited to ensure top-notch results. Contact us today at 858-578-2825 to learn more about our high-powered, HEPA-grade, customizable vacuum solutions.
AAir Purification Systems has facilities located in San Diego, CA, along with Tijuana and Phoenix, with the personnel and crews to serve Southern California, Mexico, and the state of Arizona! Contact us today!
Call Today