Dealing with volatile air contaminants that are the result of manufacturing processes? AAir Purification Systems recommends wet dust collectors. These state-of-the-art systems rely on a water bath to capture volatile dust and neutralize it before it has a chance to bring harm to workers, facilities or the environment.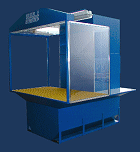 Filter 1 is an engineering and manufacture company that provides air filtration solutions for all areas of industry. offers a variety of products that meet OSHA and NFPA 484 standards for the removal of explosive and combustible dust, ranging from tables and benches with integral dust collectors to environmental dust control booths and wet dust collection systems.
Our wet collectors and scrubbers are compliant with OSHA and NFPA standards for volatile dust capture. Our solutions are also versatile, including ducted collectors, downdraft tables and booths.
Combustible Materials
We provide wet dust collectors for a broad array of manufacturing and fabrication processes, capturing combustible dust before it becomes a safety hazard.
Industrial fabrication
We focus on addressing the needs of heavy sparking operations, as well as industrial fabrication processes generating combustible dusts—cutting, grinding, air
arcing, turning, deburring, polishing, lapping and sanding, to name a few.
The systems we provide address combustible dusts, including those containing the following:
Proven Brand-Name Systems
There's no substitute for a proven track record of safety when it comes to the collection and management of combustible dust. We sell and deploy wet dust collectors and scrubbers from one of the industry's very best brand names, Filter1.
---
Industrial Wet Collector Solutions
If your facilities have a need for wet collection systems and scrubbers, AAir Purification Systems is ready to provide solutions. Contact us today to discuss the products we supply and to inquire about tailored installation to meet the needs of your operations.
AAir Purification Systems has facilities located in San Diego, CA, along with Tijuana and Phoenix, with the personnel and crews to serve Southern California, Mexico, and the state of Arizona! Contact us today!