Serving Clients Throughout Southern California, Mexico, and Arizona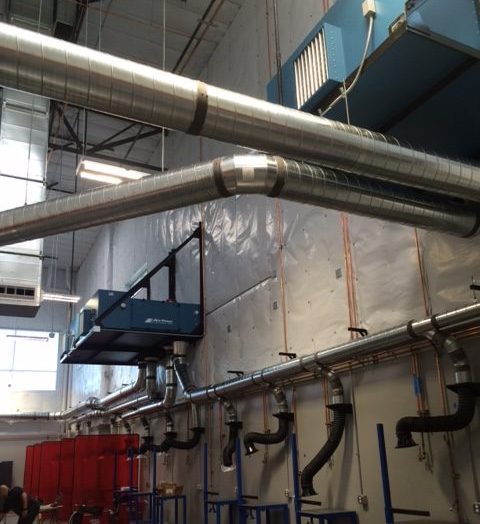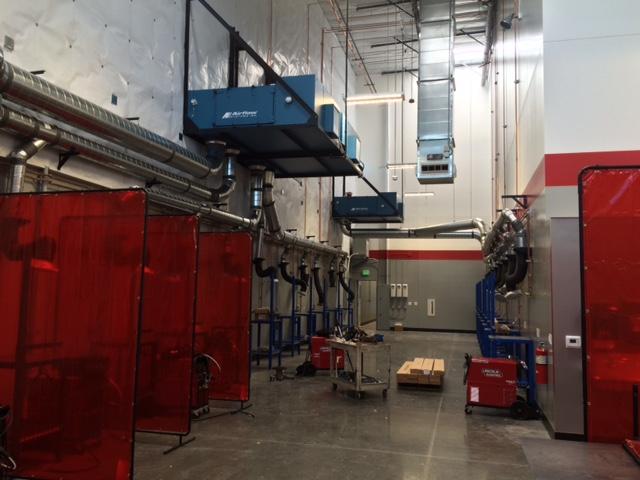 Fume extraction is absolutely essential for a safe welding work environment. Not only does it provide for a far more comfortable workplace, which boosts productivity, it also keeps things safe and avoids long-term inhalation problems. Both of those factors go directly to a company's bottom line, with the rising costs of workers' compensation not going away any time soon. Instead of having to balance the operating budget with medical insurance costs, businesses could spend their time identifying how to grow and take on additional welding orders instead.
In most traditional environments, fume extraction tends to be environmental; by blowing room fans and providing general work area suction, or expecting welding to be done outside, the minimum safety is provided, which isn't that reliable. Instead, with targeted fume extraction, a welding business can provide a far safer work environment for its personnel, as well as never letting the fumes float and become an exposure risk for workers in the first place.
The advanced technology available today goes direct to the welding process and how it generates off-gassing in the first place. With fume-extraction at the point of the welding gun actuation, fumes are captured and contained right at the source. This avoids immediate exposure for the worker holding the welding gun, as well as transient exposure for those around the work area as well. Instead of drafting or working outside, which can create problems and contaminants in the weld blown in accidentally, the welder can focus on his work in a contained environment with focus entirely on the job instead of rushing. Additional benefits of this kind of technology applied include:
High filtration levels capturing off-gassing products up to 99.97%
Ergonomic tooling design that doesn't interfere with welding tasks
Portable and can be applied to existing equipment
Centralized system capture for multiple torches
Energy savings due to the operational design
Alternatively, injection molding can also be a problem source of fumes, but fume extraction and capture resolves this operational environment risk as well. A huge by-product of injection molding tends to be the significant smoke production created when the molding process is in operation and the plastic used is heated up into the molds. In the old days, that exhaust would just escape from the molding equipment and fill up the work area, with workers breathing in the toxins directly or indirectly by nearby exposure. Today, capture arm mechanisms can be applied to extract and capture the related fumes, both creating an immediate removal of the off-gassing and toxins as well as a far safer work environment overall. With a 20-foot range on many models, the boom reach approach works extremely well, even in the largest of workshops.
Telescopic capture arms also provide effective fume capture and are a very practical choice for labs, training facilities and operations that are on a tight budget and can't afford a full capital-sized system for the entire building. Instead, these smaller units can be installed with a station-specific approach, providing the same fume extraction protection as the larger machines with a direct exposure prevention approach. While the telescopic models are not as robust and usable for large environmental capture, they are exceptionally useful for direct location applications, such as in high school welding labs and similar training facilities.
For Bigger Shops
Central welding system fume collectors are ideal. Multiple personnel can be active at the same time, and instead of managing different pieces of equipment, all of their exhaust product from welding can be captured, filtered and extracted by one machine in one location. This makes it easier to manage all the cleaning, filter changes, extraction removal and related maintenance. Add in the fact that many of the models now apply a variable frequency drive, the entire operation runs with a lower sound level, quieter operation, smaller ducts being needed, and lower energy consumption. The equipment runs on demand, and when not in use reduces functions to avoid waste and electricity costs.
In short, there's no reason for a professional welding shop to still be using archaic equipment or trying to avoid fumes by working outside exposed to wind and related disturbance. It just adds to pollution, creates additional distractions that can result in accidents, and is entirely avoidable. With the various choices available now for a fume extraction system, many operations will be wondering why they didn't start sooner once they have a system in place. It makes that much of a big difference.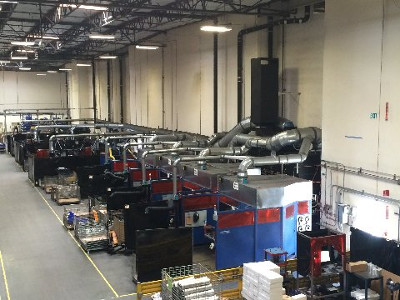 Welding Stations
Weld smoke is extracted from welding stations at an auto parts manufacturing facility. The system uses a variable frequency drive and pressure transducer with automatic controls.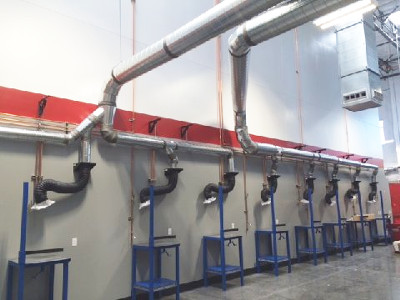 Weld Smoke Extraction Arms
Welding smoke and fumes are extracted at each welding table and ducted to a central collector for a vocational school. The extraction system is controlled by a variable frequency drive.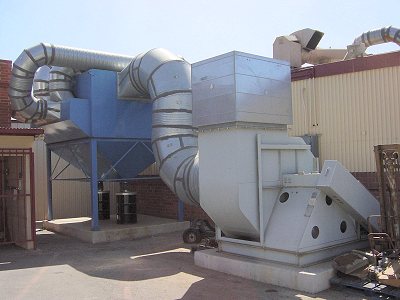 Welding Fume Extraction
Farr Tenkay collector with 75-horse power ducted to 65 welding stations for a welding school. One of the largest welding schools in San Diego County area.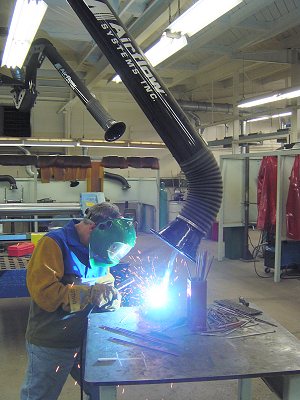 Welding Fume Extractor Arm
Master welder shows the correct approach with Airflow EZ Arm.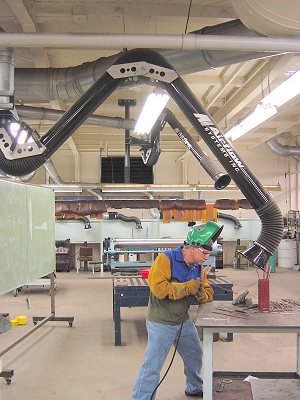 Welding Fume Extractor Arm
Master welder shows the correct approach with Airflow EZ Arm.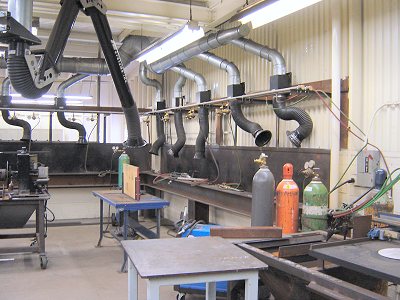 Fume Extraction Arms
Airflow EZ Arm; positioned arms.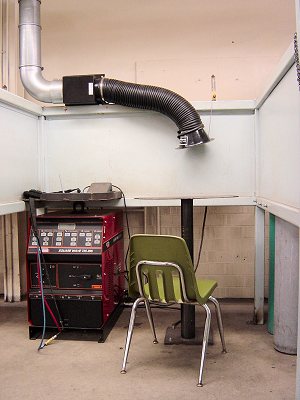 Fume Extraction Arm
A positioned arm.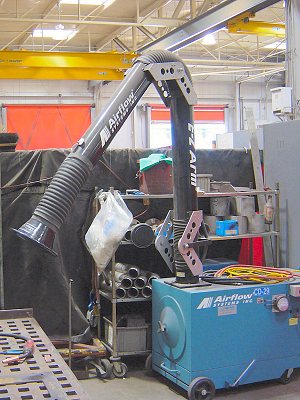 Portable Unit
Airflow Systems PCH1 Portable Weld Smoke/ Dust Collection Unit. This unit is several generations better than anything on the market and one of the most affordable.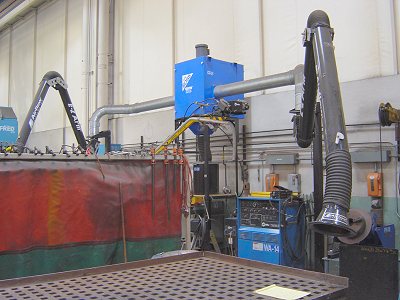 Welding Fume Extraction Systems
Fred Unit with Dual Airflow EZ Arms.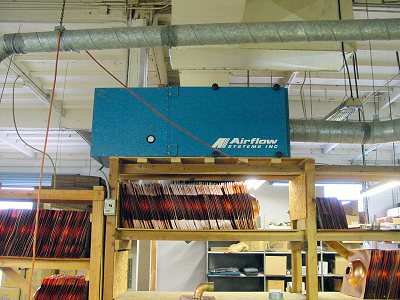 Fume Extraction System
Airflow F-120 with 4 stage filtration pre-filter, 95% bag filter, HEPA & Carbon for brazing operation.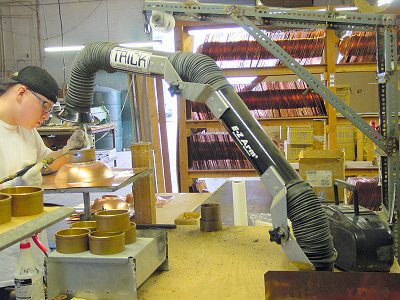 Fume Extraction System
Filter ducted to several EZ Arm II units on a solder brazing operation.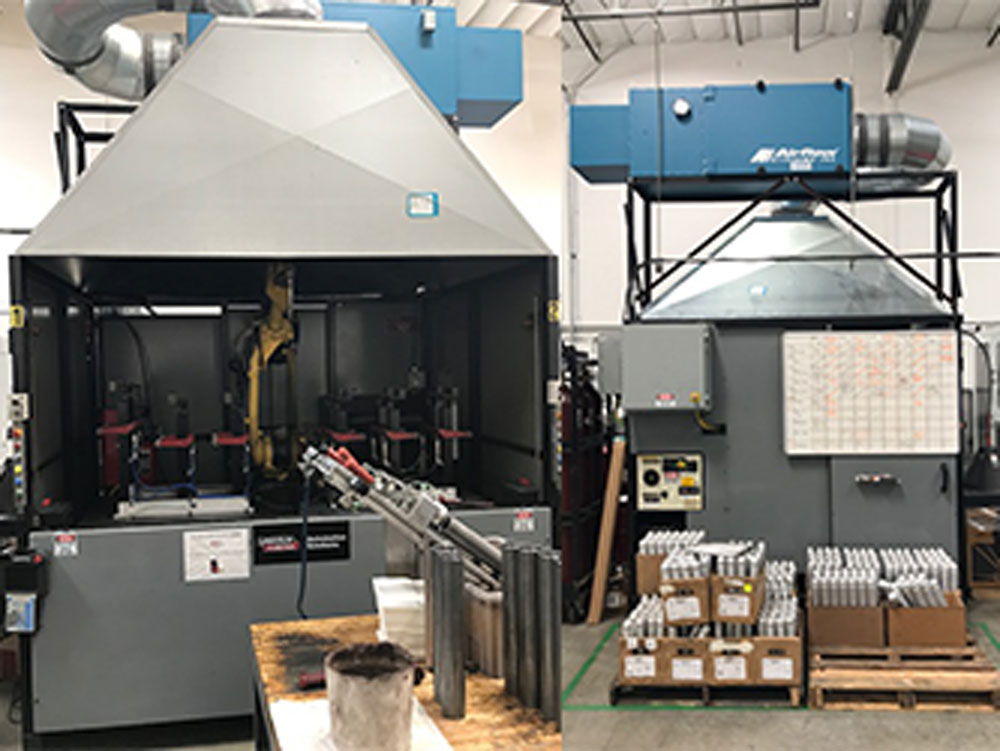 Robotic Welding Hood
The AirFlow Welding Smoke capture hood.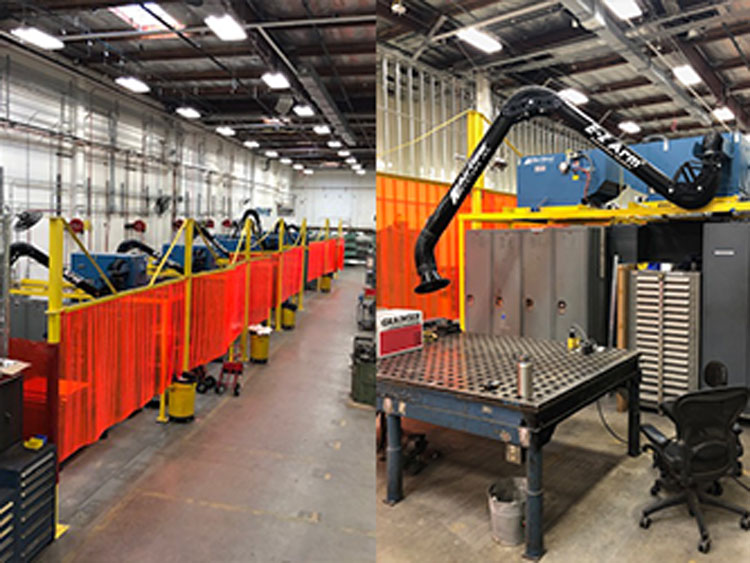 AirFlow E-Z Arm
Airflow Custom DCH II with attached 14′ EZ arm and with multiple (10) DCH II units amusement park in Anaheim.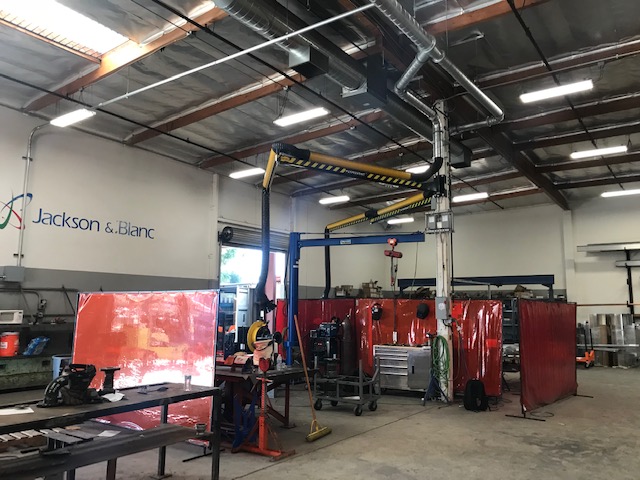 Multiple Fume Extraction Arms
Mechanical company with multiple crane arms.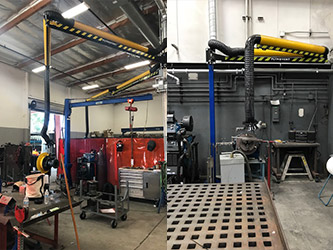 Extended Length Welding Fume Extraction Arms
Plymovent crane arm up to 25′ reach.
All the extractor arms we supply can be used as standalone applications or integrated into existing air management systems. Consult with us about customization, new installation or re-installs to ensure you're getting the most encompassing performance from your welding fume extraction systems.
Extraction solutions
We create fume extraction solutions that focus on collecting and filtering all welding gas byproducts, incompliance with OSHA standards. Welding fumes contain a variety of metals, including aluminum, arsenic, beryllium, lead and manganese. We take them all into account, ensuring your system effectively traps and neutralizes them.
Filtration system
From single- and dual-stage extraction systems, to state-of-the-art four-stage filtration systems (pre-filter, bag filter, HEPA filter, carbon filter), we tailor every installation to the scope of work in front of you. We'll ensure your workers, facilities and the environment are safe from dangerous welding gas byproducts.
Welding Stations
When it comes to source capture equipment, we're the authority. We specialize in designing high-efficiency welding station systems, which extract fumes at the point of creation. From arm extractors that can be manipulated to accommodate work, to fixed systems that are encompassing, to mobile systems that can be set up and taken down with ease, we do it all.
---
Protect Your Workers
For welding fume extraction systems aligned with OSHA indoor air quality standards, turn to AAir Purification Systems. Not only do we provide the right products, we handle the complete design and installation of a system for your facilities. We leave no variable overlooked and focus on the integrity of your air and the safety of your workers.
Contact us today to consult with us about system design.
AAir Purification Systems has facilities located in San Diego, CA, along with Tijuana and Phoenix, with the personnel and crews to serve Southern California, Mexico, and the state of Arizona! Contact us today!