Serving Clients Throughout Southern California, Mexico, and Arizona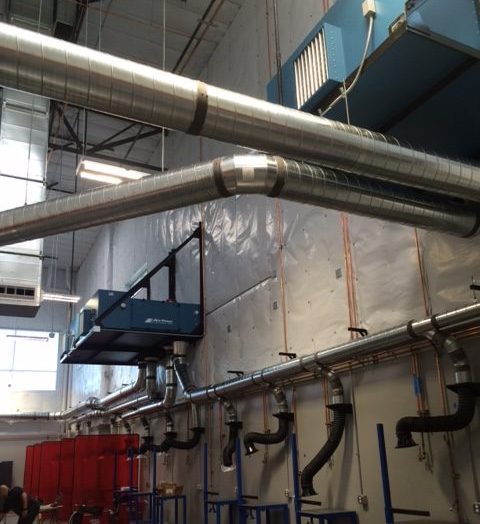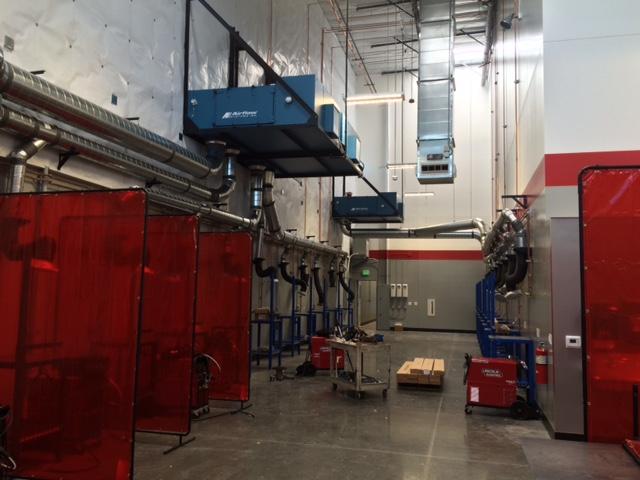 In fabrication and manufacturing settings, toxic fumes are a foremost concern. AAir Purification Systems recognizes the need for welding fume extraction systems of all types, including station-specific systems and rail-mounted, mobile solutions. We can help you design a fume extraction system that addresses the scope of welding operations in your facility, at-scale.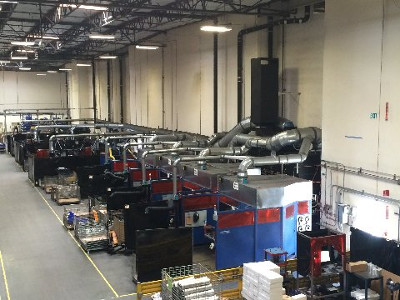 Welding Stations
Weld smoke is extracted from welding stations at an auto parts manufacturing facility. The system uses a variable frequency drive and pressure transducer with automatic controls.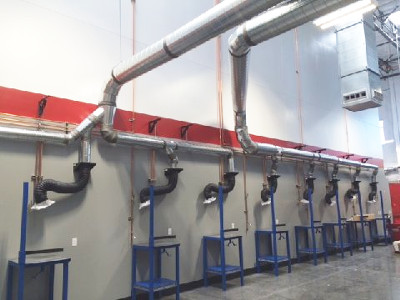 Weld Smoke Extraction Arms
Welding smoke and fumes are extracted at each welding table and ducted to a central collector for a vocational school. The extraction system is controlled by a variable frequency drive.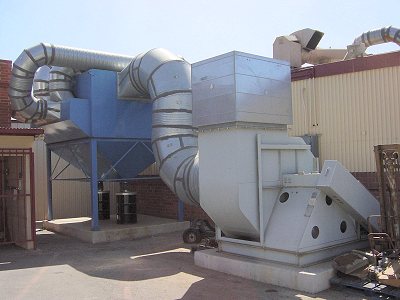 Welding Fume Extraction
Farr Tenkay collector with 75-horse power ducted to 65 welding stations for a welding school. One of the largest welding schools in San Diego County area.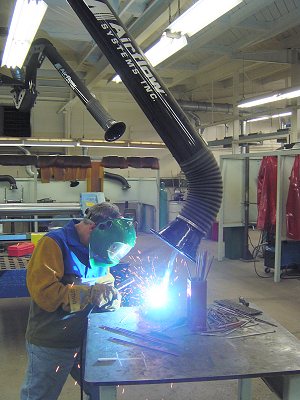 Welding Fume Extractor Arm
Master welder shows the correct approach with Airflow EZ Arm.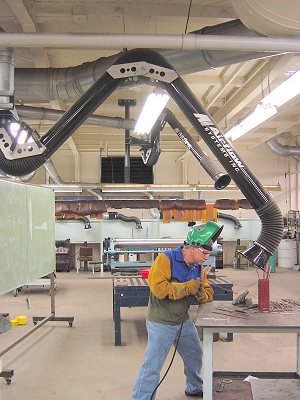 Welding Fume Extractor Arm
Master welder shows the correct approach with Airflow EZ Arm.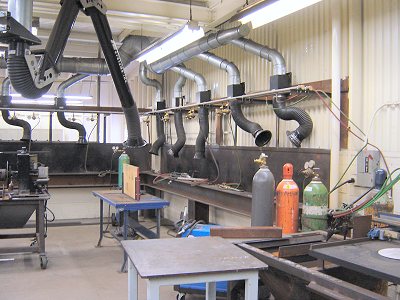 Fume Extraction Arms
Airflow EZ Arm; positioned arms.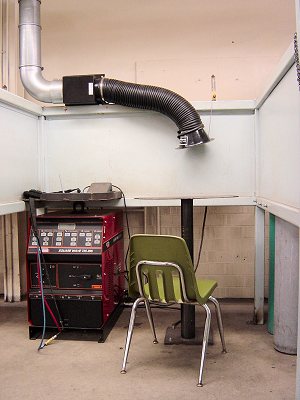 Fume Extraction Arm
A positioned arm.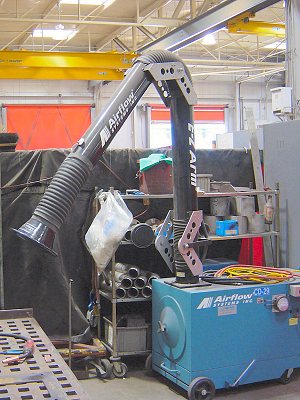 Portable Unit
Airflow Systems PCH1 Portable Weld Smoke/ Dust Collection Unit. This unit is several generations better than anything on the market and one of the most affordable.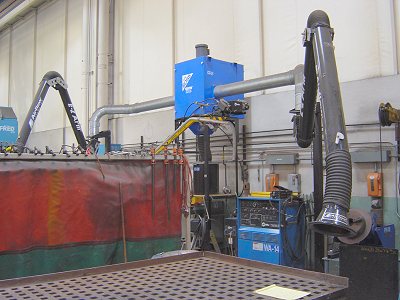 Welding Fume Extraction Systems
Fred Unit with Dual Airflow EZ Arms.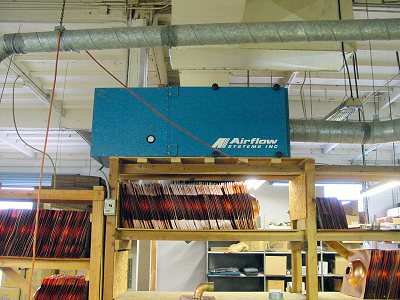 Fume Extraction System
Airflow F-120 with 4 stage filtration pre-filter, 95% bag filter, HEPA & Carbon for brazing operation.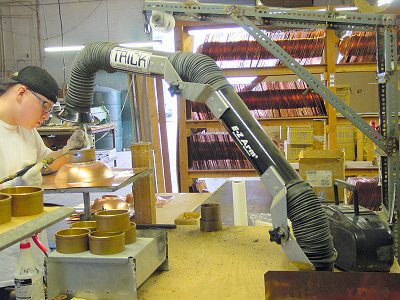 Fume Extraction System
Filter ducted to several EZ Arm II units on a solder brazing operation.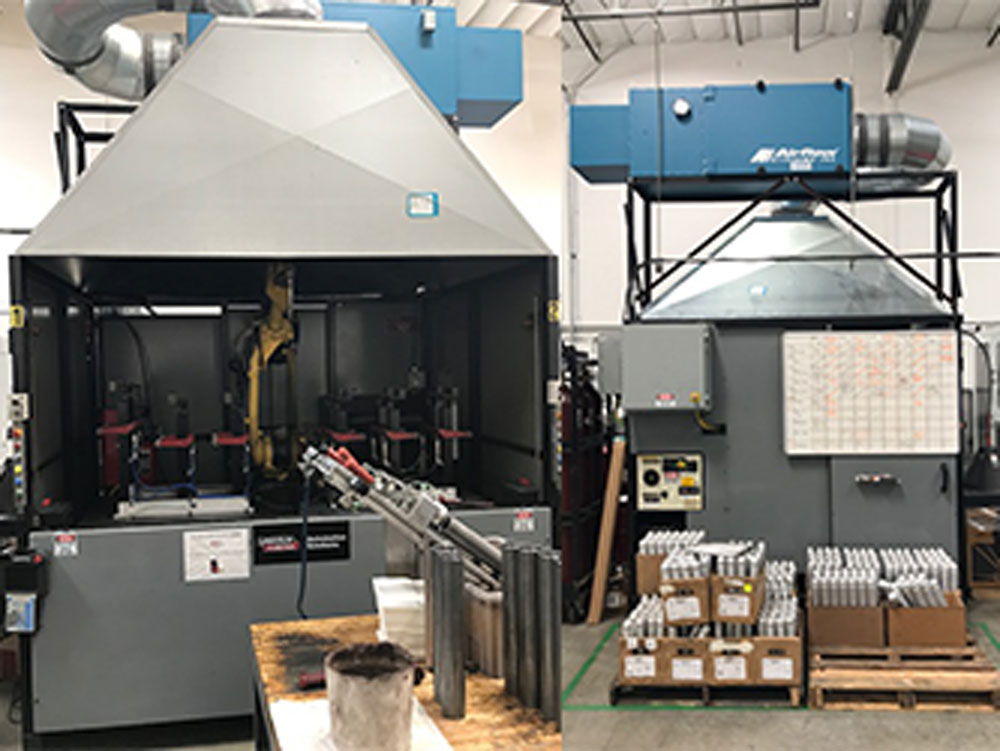 Robotic Welding Hood
The AirFlow Welding Smoke capture hood.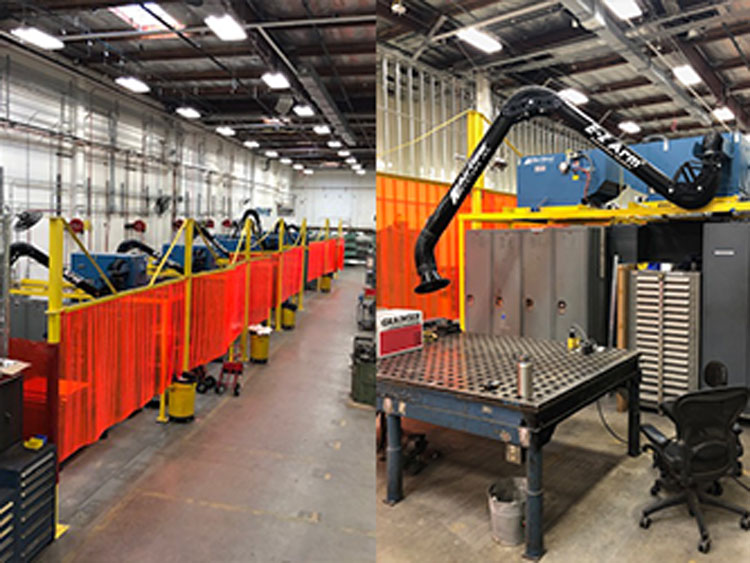 AirFlow E-Z Arm
Airflow Custom DCH II with attached 14′ EZ arm and with multiple (10) DCH II units amusement park in Anaheim.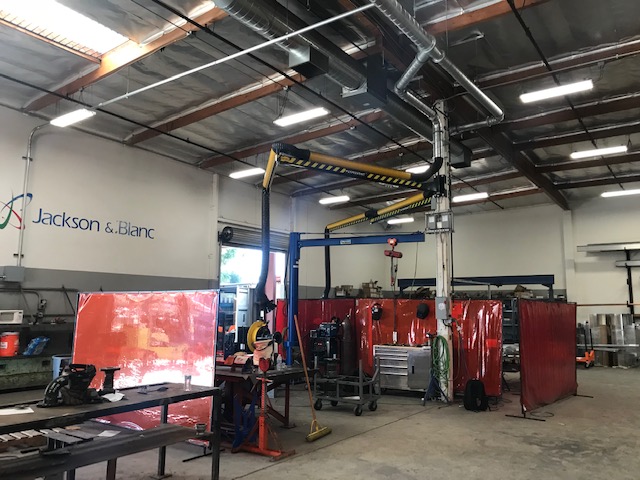 Multiple Fume Extraction Arms
Mechanical company with multiple crane arms.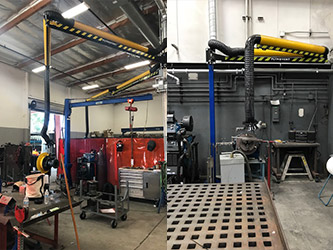 Extended Length Welding Fume Extraction Arms
Plymovent crane arm up to 25′ reach.
All the extractor arms we supply can be used as standalone applications or integrated into existing air management systems. Consult with us about customization, new installation or re-installs to ensure you're getting the most encompassing performance from your welding fume extraction systems.
Extraction solutions
We create fume extraction solutions that focus on collecting and filtering all welding gas byproducts, incompliance with OSHA standards. Welding fumes contain a variety of metals, including aluminum, arsenic, beryllium, lead and manganese. We take them all into account, ensuring your system effectively traps and neutralizes them.
filtration system
From single- and dual-stage extraction systems, to state-of-the-art four-stage filtration systems (pre-filter, bag filter, HEPA filter, carbon filter), we tailor every installation to the scope of work in front of you. We'll ensure your workers, facilities and the environment are safe from dangerous welding gas byproducts.
Welding Stations
When it comes to source capture equipment, we're the authority. We specialize in designing high-efficiency welding station systems, which extract fumes at the point of creation. From arm extractors that can be manipulated to accommodate work, to fixed systems that are encompassing, to mobile systems that can be set up and taken down with ease, we do it all.
---
Protect Your Workers
For welding fume extraction systems aligned with OSHA indoor air quality standards, turn to AAir Purification Systems. Not only do we provide the right products, we handle the complete design and installation of a system for your facilities. We leave no variable overlooked and focus on the integrity of your air and the safety of your workers.
Contact us today to consult with us about system design.
AAir Purification Systems has facilities located in San Diego, CA, along with Tijuana and Phoenix, with the personnel and crews to serve Southern California, Mexico, and the state of Arizona! Contact us today!